Find out the practical details about school life, from uniforms and school supplies to the canteen and bus services.
Uniforms
Primary (PS to CM2/NS to Y6)
Students are required to wear their uniform every day. Their teacher will tell them whether to wear their school or sports uniform.
SECONDARY (6ÈME TO TERMINALE/Y7 TO Y13)
Secondary students are only required to wear their sports uniform on the days they have physical education classes, or for school outings.
Books and Stationery
Primary (PS to CM2/NS to Y6)
Stationery and textbooks for both streams are distributed to students free of charge.
SECONDARY (6ÈME TO TERMINALE/Y7 TO Y13)
You will need to supply your own stationery, books and textbooks, as per the lists provided by teachers before the start of the school year.
SCHOOL STATIONERY SHOPS – BPR & TKO
The stationery shops at Blue Pool Road and Tseung Kwan O campuses offer stationery and supplies at very competitive prices.
Canteen
Each of our four campuses has a school canteen where we aim to provide students with healthy meals and uphold high hygiene standards. School meals also provide an opportunity for students to learn about nutrition, table manners and being part of a community.
Every day a wholesome, balanced meal comprising the 5 essential nutrients is prepared for students in Primary and Secondary.
Meals are prepared by our supplier, Compass.
From Kindergarten to Primary, students are served at the table with a single main course. In Secondary, students can choose between two meal options at the canteen.
Those who do not want to register for school meals can bring their own packed lunches.
For the health and safety of our students, FIS is a nut-free school.
School Bus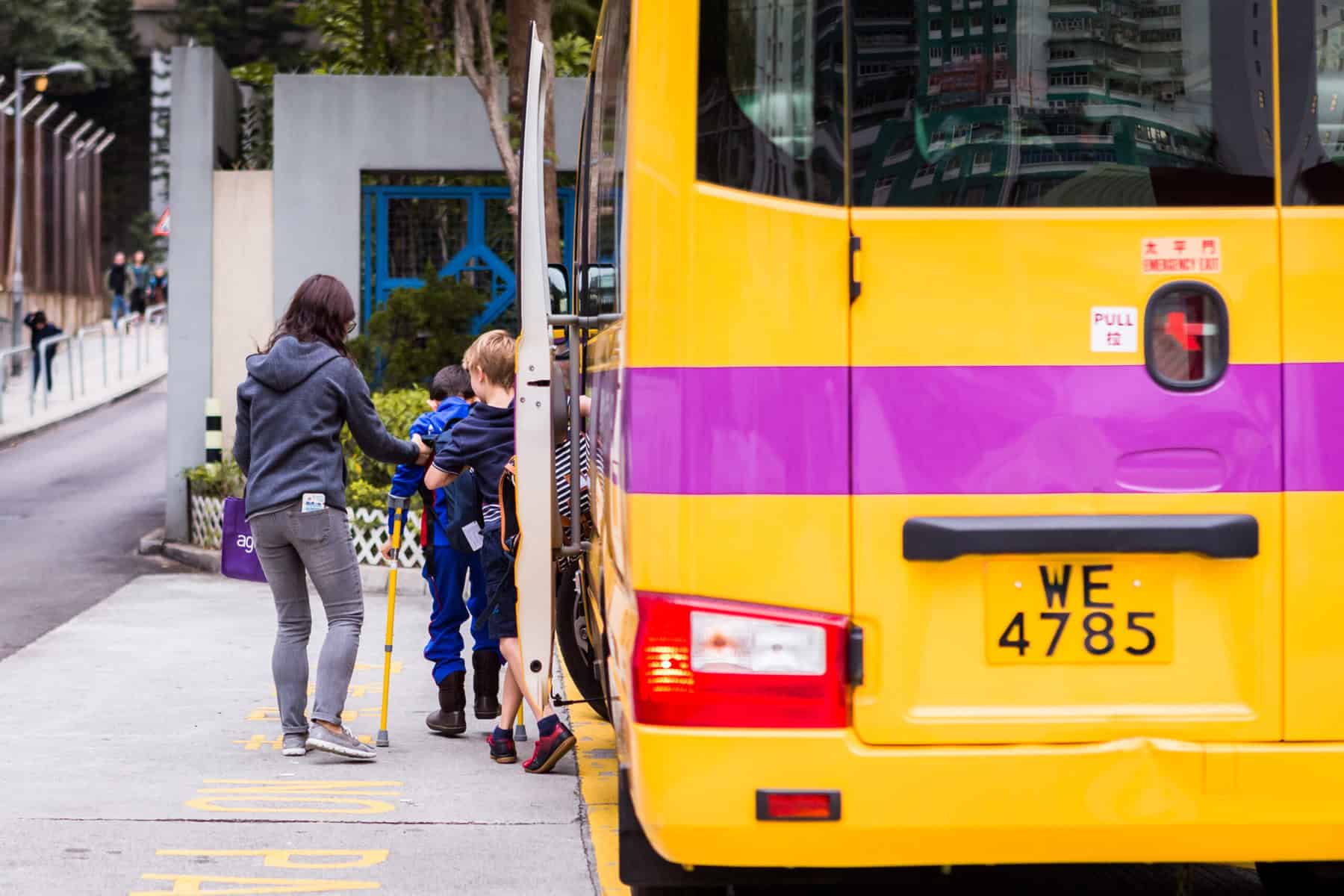 There is a school bus service, as we want to make it as easy as possible for all our students to travel to school.
We work with several different bus companies, depending on the campus and where students live. The school bus schedule is set by each company in line with school hours. They confirm pick up times at the beginning of the school year.
CONTACT THE RELEVANT BUS COMPANY FOR INFORMATION ABOUT FARES, ROUTES AND MORE.
Kwoon Chung Motors Co:  From Hong Kong island to Jardine's Lookout, Chai Wan, and Blue Pool Road campuses
MJ Travel Services Ltd.: To Tseung Kwan O campus
Cheermate Limited (Ruffy Lai via cheermate@kwongfai.com.hk ): From Kowloon to Blue Pool Road campus, from Kowloon and New Territories to Chai Wan campus, and from Kowloon and Tseung Kwan O to Jardine's Lookout campus