FIS, in association with Aurora Nova, presents "White Rabbit, Red Rabbit" by Nassim Soleimanpour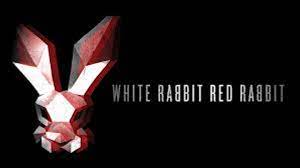 Wildly unpredictable and completely unforgettable, White Rabbit, Red Rabbit is a punch in the air for self-expression; a testament to the power of words to transcend cultures and borders. You have to be there.

New Zealand Herald
​With no rehearsals, no director, and a different actor reading the script cold for the first time at each performance "White Rabbit, Red Rabbit" by Nassim Soleimanpour is a leap into the unknown.
On Friday 28th October and Friday 11th November students from the International and French Sections 2nde and 1ere SIA/BFI, Year 10 and 11 IGCSE Drama, and Year 12 TOK classes were lucky enough to have the opportunity to see live performances of this highly acclaimed play here in Blue Pool Road.
The school was generously granted a one day license for two performances by Aurora Nova International Theatre Booking, and the play was read by Daren Durkin and Iain Hill, and produced by Juliette O'Brien.
​​Forbidden to leave his country, playwright Nassim Soleimanpour distilled the experience of an entire generation in a wild, utterly original play. WHITE RABBIT RED RABBIT is a work about contemporary Iran and of Nassim's generation. A generation born amidst the hardship of the Iran-Iraq war. A generation of computer-literate, well-informed young people who have never known an Iran other than the Islamic Republic.
​Since its joint premiere in 2011 in Edinburgh and Summerworks festival WHITE RABBIT RED RABBIT has been translated into more than 25 different languages and been performed over 2000 times by some of the biggest names in theatre and film including actors John Hurt, Whoopi Goldberg, Nathan Lane, Stephen Rea, Sinead Cusack, Marcus Brigstocke, Dominic West and film director Ken Loach. (https://www.nassimsoleimanpour.com/whiterabbitredrabbit)